Chip tha Ripper, currently known as King Chip, is an American hip hop recording artist from Cleveland, Ohio.
A large part of his internet success was due to his rap "S.L.A.B. Freestyle". The lyrics "Interior crocodile alligator / I drive a Chevrolet movie theater" gained notoriety in blogs for the ridiculousness of the phrase and image boards and eventually grew into an internet meme.[1]
Chip tha Ripper is a meme since the early GiIvaSunner channel.
The SiIvaGunner backroom first uploaded a certain amount of "S.L.A.B. Freestyle" mashups that got popular among the fans. However, the general consensus regarding rips containing "S.L.A.B. Freestyle" turned negative over time, with many rippers and backroom members regarding it as one of the worst memes on the SiIvaGunner channel, and has become since then mocked by the backroom[2] - like in the rip Title Screen (Demo) - Super Mario 3D Land - and banned from user submissions[3].
Character
Edit
Mr Rental Arc As revealed in "Behind the Scenes - Mr. Rental: The Video Game", NBGMusic originally planned an episode of Mr. Rental that gave us a look at Mr. Own's past and how Chip tha Ripper murdered Mr. Own's family and also gave us information on why Mr. Rental dislikes mash-ups.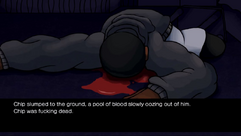 The SilvaGunner Comeback Crisis
Edit
In The SilvaGunner Christmas Comeback Crisis arc, Chip tha Ripper is a part of the Rapper's Union alongside Snoop Dogg, Soulja Boy and Charles Barkley.
Click "Show lyrics' to see the lyrics of "S.L.A.B. Freestyle"
---
yeah ... Chip - tha - Ripper ... S.L.A.B
Now baby I'm the ripper, your baby daddy's worst nightmare
Catch me by the Clair, I'll be right there
Niggas copy everything we say
Louie frames, eyes lower than my G.P.A
Riding and swerving, Kush I'm blown
Doors wide my trunk bump like Eddy Road
I don't cake hoes, I never tip the stripper
I'm rich bitch but you can call me Cheap tha Ripper
Shell toes, yes. P.R.P.S
There's a man riding a horse on top of my chest
Polo fresh, I am the man
I be slam dunking Tanqueray shots with LeBron
Told niggas keep it Carmelo, okay
Rolled past Dave told him hello and hey
Me and Cash in something old on 23's ho
Back window says "Mama Mel Bicho"
Skateboarders grind, I grind too
That's why you can catch me in D.C. shoes
I quit the team but believe I'm balling
Want a verse, put up a stack or quit calling
30's on my Chevrolet call me super duper
Garage like Roots I got more whips than Kunta
Riviera sitting on the Bulls best hooper
Y'all still riding 20's, y'all some oompa loompas
Doors swang on niggas that got bad behavior
My four 15's woke up the neighbors
Interior crocodile alligator
I drive a Chevrolet movie theater
References
Edit
↑ "Chip tha Ripper is easily the worst siiva meme", by Chaze the Chat, Twitter
↑ Main Theme - Superman 64 (rips submissions), YouTube
Ad blocker interference detected!
Wikia is a free-to-use site that makes money from advertising. We have a modified experience for viewers using ad blockers

Wikia is not accessible if you've made further modifications. Remove the custom ad blocker rule(s) and the page will load as expected.