"
Dance of Dog (Beta Mix) - Undertale
" is a
high quality rip
of "Dance of Dog" from the game
Undertale
.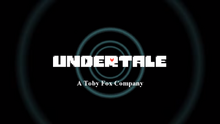 At 0:11, the rip turns into a mashup of the advertised track and the Cartoon Cartoons theme song, specifically the shortened version of the theme song that was used in the Cartoon Network Studios end card.
The rip also incorporates some of the visuals used in the original end card: the expanding blue rings behind the logo and the subtitle below the logo (the original usually saying "A Time Warner Company", while the subtitle in this rip says "A Toby Fox Company").
Ad blocker interference detected!
Wikia is a free-to-use site that makes money from advertising. We have a modified experience for viewers using ad blockers

Wikia is not accessible if you've made further modifications. Remove the custom ad blocker rule(s) and the page will load as expected.