JOEJOE'S BIZZAERE JOJOKE is an album released by GilvaSunner / SiIvaGunner. It was announced through the video "『 AN ENEMY ANNOUCEMENT』". It was advertised as an album that was titled 7「STAND」DAD. It is a joke album, containing mainly off-beat mashups.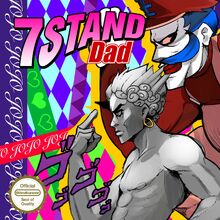 Track list
Edit
No.
Title
Ripper(s)
Length
1.
"WHERE'S THE FUCKING JOJOKES"
Chief Keef 1.5
02:23
2.
"To Be Continued..."
Chaze the Chat
08:36
3.
"Joflex"
Generii
01:54
4.
"mud."
CrystalForce
01:04
5.
"epic jojo ending mega mashup megamix!"
202luigidude
21:31
6.
"i quit"
Generii
01:10
7.
"Boo-Ruddy Sootoomoo"
Matsu Muhō
01:34
8.
"Sn No Chee No Sodomy"
yodooder
04:19
9.
"hey guys check out this song from jojo"
Avolience
03:23
10.
"Bloody Nutshack"
Chaze the Chat
04:20
11.
"BLOODK RAP"
Autumn
01:32
12.
"peepee lol"
Chief Keef 2
06:47
13.
"BLOODY OFFSTREAM"
Coda but drunk
04:22
14.
"Roundabout, except it's got space jam"
Cavenyan
08:36
15.
"hey guys check out my 8 bit remix (GXSCC)"
Chaze the Chat
03:37
16.
"as performed by Bob Dylan"
Bloody Stream
01:45
17.
"Angry Jojoe's banned gallery"
Craz Xexe
06:29
18.
"The First Two Measures of Bloody Stream Looped for Four Minutes Because Fuck You That's Why"
Matsu Muhō
04:21
19.
"Epic JoJo.wav"
Willie Weasel
04:37
20.
"Bloody Ears"
Creamed Corrin
01:25
21.
"Wario's Bizarre Adventure (Instrumental)"
op
01:31
22.
"BLOODY STREAM (All Star Battle Version)"
Matsu Muhō
02:45
23.
"Crazy Noisy Bizarre Town"
Shengda Baba
03:06
24.
"epic jojo opening mega mashup megamix!"
202luigidude
23:10
25.
"Haunted Stream (aka Bloody Boss) by 8-Bit Coda"
Matsu Muhō
01:42
26.
"DISLIKE THIS PIECE OF SHIT YOU MONGRELS"
Blue Jojokester
04:13
27.
"Roundabout Funny Moments"
Blue Jojokester
05:29
28.
"Jojolovania"
The DuWang
00:59
29.
"behind blue eyes of heaven"
wheel able
04:48
30.
"BARKLEY'S's Bizarre Adventure: Eyes of SLAM!"
SmokyThrill77
04:20
31.
"joje"
Le Ruse Bird
01:23
32.
"Breakdown (except it never starts)"
FinalFantasyLXIV
02:53
Hidden Track
34.
"Sonniku's Bizzarre Adventure - CHAPTER 1"
Solid STRGG
05:32
Bonus Items
Edit
The album also contains several bonus items in it. However, all of them are identical to the Angry Joe photos and video found in GiIvaSunner's HighestQuality Video Game Rips Volume 2.
See also
Edit
Ad blocker interference detected!
Wikia is a free-to-use site that makes money from advertising. We have a modified experience for viewers using ad blockers

Wikia is not accessible if you've made further modifications. Remove the custom ad blocker rule(s) and the page will load as expected.