"Temporary Secretary" is a 1980 electropop song by Paul McCartney. It has been ranked #36 all-time McCartney post-Beatles song, and #167 greatest song of all time[1].
"Temporary Secretary" first got meme status on the Mega64 podcast circa 2014 [SPECIFICS NEEDED]. At one point, Mega64 even urged their fans to tweet at Paul McCartney asking him to play the song live[2]. When on May 23, 2015 Paul McCartney actually did play the song live (for the first time ever) at a concert at London's O2 Arena[3][4], Mega64 considered it their win[5].
Vinesauce Vinny referenced the song in his Quite Soulless stream on February 6, 2017[6], bringing it to the attention of the Vinesauce fanbase (which several SiIvaGunner contributors are a part of). (WAS IT REFERENCED EARLIER? NEED MORE INFO)
On May 12, 2017 Ed Banger Records released the album "ED REC 100", which featured the track "Temporary Secretary" by Riton that sampled Paul McCartney's original. Riton's track was used in the video promoting the album[7].
"Temporary Secretary" started appearing on the SiIvaGunner since May 13, 2017, possibly influenced by the release of "ED REC 100". It's usually used in melody changes.
Jerry Temporary
Edit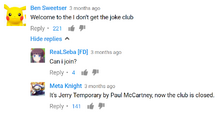 SiIvaGunner refers to this song as "Jerry Temporary". The earliest appearance of the name "Jerry Temporary" is found in the comments of the second "Temporary Secretary" rip, "Powerful Mario (Beta Mix) - Super Mario 64". A commenter told someone that the joke was "Jerry Temporary", mistaking it for "Temporary Secretary". The team started to call the song "Jerry Temporary" after that.[8]
On June 10, 2017, useless account uploaded the video "Jerry Temporary - Paul McCartney". The description of that video reads:
"Unfortunately, I've recently seen that people online have uploaded this as "Temporary Secretary" which is really disrespectful to Paul McCartney. Hopefully I will bring justice to McCartney by uploading this version with the name fixed. Thank you for understanding, and I hope you have a good day."
Later that day, on the rip "In-Game Music - Xevious", useless account commented: "Joke: Jerry Temporary by Paul McCartney"[10].
As of July 25, 2017, the video "Jerry Temporary - Paul McCartney" by useless account is at top of the Undertale playlist[11].
To read the lyrics, click "Expand".
---
[Verse 1]
Mister Marks can you find for me
Someone strong and sweet fitting on my knee?
She can keep her job if she gets it wrong
Ah, but Mister Marks I won't need her long
All I need is help for a little while
We can take dictation and learn to smile
And a temporary secretary
Is what I need for to do the job
I need a

[Chorus]
Temporary secretary, temporary secretary
Temporary secretary, temporary secretary

[Bridge]
Mister Marks could you send her quick
Because my regular has been getting sick?
I need a

[Chorus]

[Verse 2]
Mister Marks I can pay her well
If she comes along and can stay a spell
I will promise now that I'll treat her right
And will rarely keep her until late at night
I need a

[Pre-Chorus]
She can be a belly dancer
I don't need a need true romancer
She can be a diplomat
But I don't need a girl like that
She can be a neurosurgeon
If she's doing nothing urgent
What I need's a temporary, temporary secretary
I need a, I need a

[Chorus]

[Verse 3]
Now Mister Marks when I send her back
Will you please make sure she stays on the right track
Well, I know how hard it is for young girls
These days in the face of everything
To stay on the right track

[Pre-Chorus]

[Chorus]
References
Edit
Ad blocker interference detected!
Wikia is a free-to-use site that makes money from advertising. We have a modified experience for viewers using ad blockers

Wikia is not accessible if you've made further modifications. Remove the custom ad blocker rule(s) and the page will load as expected.