U.N. Owen Was Her? - Touhou 6: the Embodiment of Scarlet Devil
is a high quality rip of the song
U.N. Owen Was Her?
from the sixth Touhou game.
In this rip, the theme at 0:27 and 1:37 is replaced with Meet the Flintstones.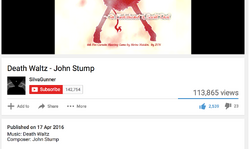 This is a reupload of a rip that has been posted on the GiIvaSunner channel on Mar 4, 2016[1].
At some point before Mar 5, 2017[2][3] the title of this rip was temporarily changed to Death Waltz - John Stump. The description also listed "Music:" as "Death Waltz" and "Composer:" as "John Stump". This is a reference to a minor meme related to U.N Owen Was Her? In 2010, a remix of a remix of U.N Owen Was Her? mixed with Last Brutal Sister Flandre Scarlet was uploaded to YouTube. A lot of people didn't recognize the tune, and thought it to be Death Waltz by John Stump, a music piece notorious for being deliberately composed to be virtually impossible to perform. Both the title and the description of the rip were eventually changed back[4].
Reference list
Edit
Ad blocker interference detected!
Wikia is a free-to-use site that makes money from advertising. We have a modified experience for viewers using ad blockers

Wikia is not accessible if you've made further modifications. Remove the custom ad blocker rule(s) and the page will load as expected.